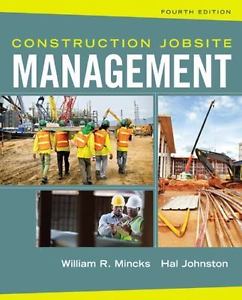 Author: William R. Mincks & Hal Johnston
Publisher: Delmar
Edition: Fourth
Type: Hardcover
ISBN-10: 1-305-08179X
ISBN-13: 978-1-305-08179-6
Product Description:
The newly updated Fourth Edition of CONSTRUCTION JOBSITE MANAGEMENT examines all facets of construction project management from the contractor's point of view. The responsibilities of project managers, construction superintendents, and construction engineers are covered in depth, from configuring a project team through closing out a project. The text maintains a strong focus on jobsite personnel activities, outlining proven procedures and offering helpful techniques to manage projects effectively from start to finish. Clear, concise language and accurate, relevant detail make this book an essential introduction to the "real world" of construction jobsite management.