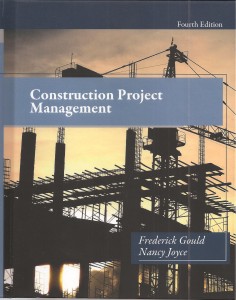 Author: Frederick Gould & Nancy Joyce
Publisher: Pearson
Edition: Fourth
Type: Hardcover
ISBN-10: 0-13-287724-4
ISBN-13: 978-0-13-287724-4
Product Description:
This up-to-the-minute text addresses all facets of successful construction project management in today's complex environments. Construction Project Management introduces all key players in the process, walks through each project phase, and presents tools for effectively managing both people and projects. Co-authored by an academic and an industry professional, it fuses theory and practical reality, and interweaves roles of owner, designer, and construction professional throughout. It first introduces the modern industry and profession, presenting emerging trends, roles, contractual arrangements, and opportunities. Next, it focuses on the project itself, from concept to occupancy, and address the construction professional's growing role during design and early construction. Students also master modern tools for estimating, scheduling, control, and feedback. The text provides many charts and images, as well as real-world sidebars authored by industry-leading professionals. This edition presents new technologies, techniques, statistics, trends, and career information throughout, including new approaches to collaboration, project delivery, and continuous improvement.